Anatomage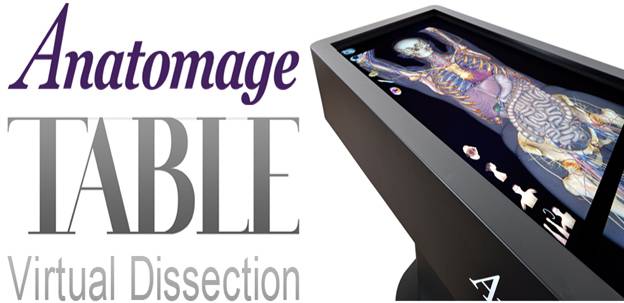 The Anatomage Table is the most technologically advanced anatomy visualization system for anatomy education. It is a combination of unique hardware and software for the educational community. The form factor resembles an operating table or hospital bed and the real patient contents perfectly illustrate the anatomical realism of a living human. The Anatomage Table has an optional digital library module that includes over one hundred twenty pathological examples, allowing students to not only dissect normal gross anatomy, but also experience abnormal pathologies. Table includes also: · An All-in-One, Touch-Interactive Display System · True Human Anatomy in a Life-Size Scale · ClassroomandLabIntegration · Clean, Safe, ReusableTechnology · RadiologicalImagingWorkstation · Unique, RarePathologyExamples · MedicalandSurgicalDeviceDemonstration · ComparativeAnalysis - Multi-ScanViewing ·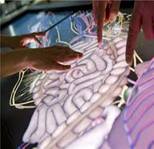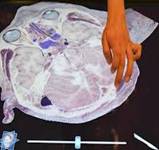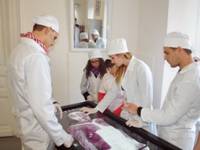 Dynamic, 4D Scans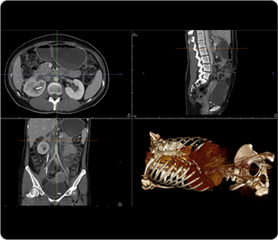 MicrovisTouch™Simulator Ophthalmology and Microsurgery procedures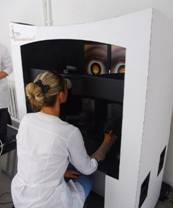 Adjustable visual and tactile properties to recreate precise touch and feel experience; Lets surgeon tune the device to real life experience MicrovisTouch™Simulatorallows you to perform the following procedures: Capsulorrhexis Phacoemulsification Corneal incision Paracentesis Micro-Dexterity Aneurysm Clipping LAP MENTOR™ The Simbionix LAP Mentor is the only evidence based simulator for advanced laparoscopic skills and complete clinical procedures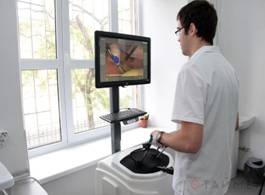 The Gold Standard of Laparoscopic Training Solutions Complete Clinical Procedures Complex clinical scenarios with real time complications, such as bleeding and injuries to important organs, offer the user an opportunity to train in a risk-free educational environment. Procedural Tasks Each task focuses on one critical stage of the procedure to allow the trainee to master the essential skills of the Laparoscopic procedures. Interactively-guided, procedural techniques enable learners to experience different approaches to the procedure and appropriate use of surgical instruments. True-To-Life Training Environment Created by the combination of a lifelike tactile experience, detailed anatomy, realistic imaging, commonly used surgical instruments, real time synchronization between hand-held tools to those on the screen and various trocar configurations. Educational Content Didactic features and educational aids such as 3D anatomical maps, interactive instructions and real life videos, help trainees to fully understand all aspects of the procedure. Comprehensive Performance Evaluation Detailed reports provide feedback to the learner and the educator in order to assess skill level and training success. The reports include learning curve graphs with metrics categories such as: time and economy of movements, safety and electrosurgical dissection, procedural errors, and many more.
The Only Laparoscopic Simulator Proven to Improve Performance in the OR
The LAP Mentor's proprietary technology enables high fidelity procedure simulation that is backed by over 60 clinical validations. Learners are able to experience a wide range of complex laparoscopic tasks and procedures in a safe environment
LapTrainer with SimuVision
The LapTrainer is a simulated laparoscope that - combined with your PC - creates unsurpassed graphics. SimuVisionTM technology integrated into our laparoscopic trainer creates an affordable and portable platform for product and surgical demonstrations or for teaching techniques and skill building tasks

SkillDevelopment:
Basic laparoscopic surgical skills and dexterity
Improveeye-handcoordination
Practicetransferring, dissectionandsuturing
VirtaMedHystSim™
Experience Hands-on Diagnostic and Operative Hysteroscopy Simbionix and VirtaMed have joined forces to provide surgeons in OB/GYN the most advanced training system available for diagnostic and therapeutic hysteroscopy. The VirtaMedHystSim™ hysteroscopy training system is a comprehensive educational solution. Quality didactic tutorials are used to introduce and explain "best practice" in core procedural techniques. This is followed by a high fidelity simulation providing a realistic hands-on experience that includes mastering instruments and managing complications. Multiple, complete hysteroscopy procedures are available to provide a range and depth of relevant pre-clinical experiences. Meaningful and useful objective feedback facilitates and completes the learning process to provide consistent, efficient and cost-effective results that are difficult to achieve using traditional teaching methodologies.
Highlyrealistichysteroscopytraining
Courses for beginners and experienced endoscopists
Original devices: hysteroscope, loop electrode, grasper, scissors, morcellator
After completing the diagnostic and therapeutic endoscopy training on VirtaMedHystSim™, residents know how to take a proper biopsy, how to remove polyps with scissors or a grasper, and how to handle challenging cases, including, but not limited to, a fundal septum, multiple and intramural fibroids, and intensive bleeding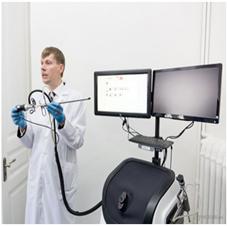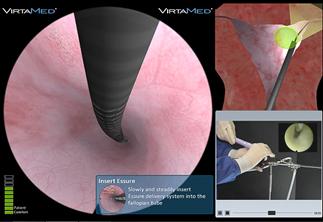 HAL® S3201 Advanced Tetherless Patient Simulator
Hal® 3201 sets a global standard for medical simulation. Tetherless technology allows the communications, compressor, and power supply to be inside HAL®, eliminating external tubes, wires, and compressors. HAL® operates continuously during transport and training can occur in the working environment. Rush HAL® from the accident scene to the ER, to the ICU, while care providers diagnose and treat his condition using real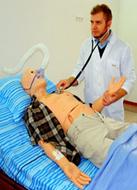 monitoring and resuscitation equipment. Control HAL® at distances up to 300 meters and between rooms and floors of conventional buildings. HAL® smoothly transitions between physiologic states in response to commands from a wireless PC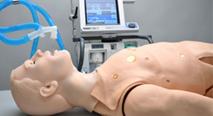 Airway · Programmable airway: tongue edema, laryngospasm, and pharyngeal swelling · Multiple upper airway sounds synchronized with breathing · Right mainstem intubation · Placement of conventional airway adjuncts · Endotracheal intubation · Retrograde intubation · View vocal cords with Sellick maneuver · Realistic surgical trachea allows tracheostomy or needle cricothyrotomy Breathing · Control rate and depth of respiration and observe chest rise · Select independent lung sounds: upper right front and back; upper left front an back; lower right front and back; lower left front and back · Chest rise and lung sounds are synchronized with selectable breathing patterns · CO2 on exhalation (4 levels) using replaceable cartridge mounted inside the simulator · Attach to real mechanical ventilators Etc Cardiac · ECGs are generated in real time with physiologic variations never repeating textbook patterns · Heart sounds may be auscultated and are synchronized with ECG · View dynamic rather than static 12 lead rhythms ·12 Lead ECG with integrated MI model Circulation · Measure blood pressure by palpation or auscultation · Use real BP cuff rather than a "virtual" cuff to measure blood pressure ·Korotkoff sounds audible between systolic and diastolic pressures · Oxygen saturation detected using real monitors rather than a "virtual" value · Pulse sites synchronized with BP and heart rate · Bilateral IV arms with fill/drain sites Etc Drug Recognition System Neural Responses Speech The New NOELLE – The world's most advanced birthing simulator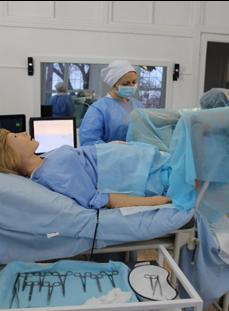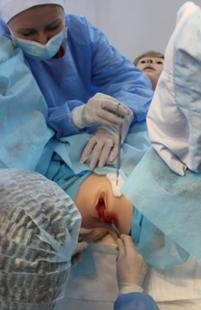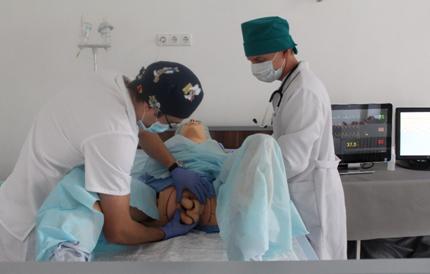 NOELLE is perfect for competency based programs since each delivery can be precisely controlled while devices track student actions. The fetus may be manipulated to resolve a delivery dilemma. See instant feedback of force and torque on the fetus as well as its head position Features · Realistic birth canal with dilating cervix · Precision programmable fetal delivery system for repeatable teaching exercises including Normal Labor and Birth Instrumented Delivery Shoulder Dystocia Breech Presentation C-Section · Maternal Airway Program tongue edema and pharyngeal swelling Multiple upper airway sounds synchronized with breathing Nasal or oral intubation Sensors detect depth of intubation Head tilt/ chin lift Jaw thrust Practice simulated suctioning techniques Bag-Valve-Mask Ventilation Conventional airway adjuncts Endotracheal intubation using conventional ETTs Sellick maneuver brings vocal cords into view · Maternal Breathing Automatic chest rise is synchronized with respiratory patterns Independent left or right lung sounds synchronized with breathing Ventilation may be assisted using BVM, ETT, or LMA · Maternal Cardiac ECGs are generated in real time with physiologic variations never repeating textbook patterns Heart sounds may be auscultated and are synchronized with ECG Optional automatic mode allows to show virtual dynamic ECG rhythms for each of the 12 leads · Maternal Circulation Measure blood pressure by palpation or auscultation Use real BP cuff rather than a "virtual" cuff to measure blood pressure Korotkoff sounds audible between systolic and diastolic pressures Oxygen saturation detected using real monitors rather than a "virtual" value Pulse sites synchronized with BP and heart rate Bilateral IV arms with fill/drain sites ·Maternal Neural Responses Programmable blinking, dilation and eye response to light Programmable duration and intensity of convulsions Maternal Speech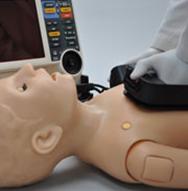 Treatment patient simulator / pediatric /
HAL® S3005
Airway Nasal Intubation Oral Intubation ET Tube Position Sensor Tongue Edema Cricothyrotomy / Tracheostomy Airway Sounds Breathing R/L Chest Rise R/L Lung Sounds Ventilation Sensor Cardiac Heart Sounds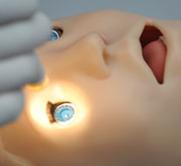 ECG Lead II Defibrillation/ Cardioversion / Pacing Compression Sensor Circulation Bilateral IV arms Blood Pressure (Left Arm) Bilateral Pulses (Carotid, Brachial, Radial, Femoral, Radial) Disable Radial Pulse Central Cyanosis Neurological Reactive Eyes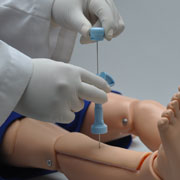 Seizures Other CPR evaluation Intraosseous Access Intramuscular Injection Sites Urinary Catheterization Gastric Distention Bowel Sounds
Newborn HAL® S3010 Tetherless Newborn Simulator
Newborn HAL® allows you to take advanced simulation where you need to go and that can be at an accident scene, in an ER, in a Labor and Delivery room, or in a NICU. "Care in motion" also provides the opportunity for you to measure how well patient "hand-offs" take place. What is done well and what needs to be improved?
Treatment patient simulator Premie HAL® S3009
Train to care for compromised newborns.
The device has an airway.
Benefits
Synchronization: Selectable breathing patterns synchronizes chest rise and lung sounds.
Operation: Left and/or right chest wall movement and lung sound has to be selected.
Logging and Measurement: The device logs and measures the ventilation.
Controls Respiration: It controls respiration rate and depth and observes the chest rise.
Synchronized Breathing: Breathing is synchronized with multiple upper airway.
Tube: ET tube or LMA should be used.
Utility: It is utilized for oral and nasal intubation
Care patient simulator Super Chloe®
Medical students can study the human anatomy, do airway management, tracheotomy, perform CPR and try out a host of practical experiments with the help of this full body anatomy replica. The body parts are changeable and replaceable. The replica acts just like a body, it can bend at the waist, move the limbs, head and neck and even have lower dentures. The proper method of applying injections and infusions are taught with this replica. The interchangeable male organ enables to study the anatomical differences and functions. The software, lifelike skin adds to the realistic effect. Learning about Male and female catheterization is also possible with this replica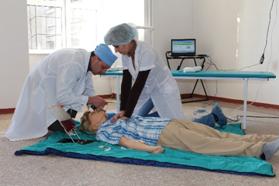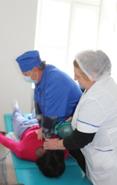 TraumaManSystem
The TraumaMan® System is an anatomical surgical manikin that is designed for students to practice a variety of surgical procedures. The TraumaMan System was evaluated and approved by the American College of Surgeons in 2001 as an alternative to live non-human models or cadavers for ATLS, the leading Trauma Training Course. The system is now used to train over 30,000 medical professionals each year. Since its release, TraumaMan has also become widely used in military courses, EMS training, and other trauma surgery simulations.

Proceduresimulationsinclude:
Cricothyroidotomy
ChestTubeInsertion
Pericardiocentesis
NeedleDecompression
PercutaneousTracheostomy
DiagnosticPeritonealLavage
IV Cutdown
Suturing, Incisions
SonoMan System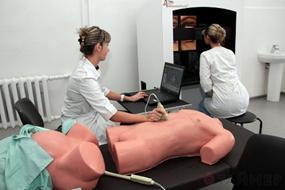 The SonoMan System provides an affordable platform for teaching students how to read diagnostic ultrasound imaging. The system includes a soft tissue body form with internal and external landmarks and a simulated probe. The torso has 258 unique probe locations providing a normal image for each window. The system's software platform allows users to expand SonoMan's capabilities with additional training modules SHAPE \* MERGEFORMAT


This ultrasound trainer provides an affordable platform for teaching students how to read obstetric ultrasound imaging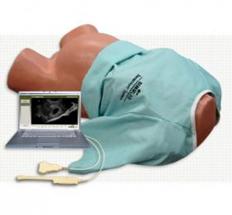 CentraLineMan System

CentraLineMan is a Central Vascular Catheterization training solution that allows medical professionals to train using real-time ultrasound guidance during catheter placement
FemoraLineMan System
FemoraLineMan is an ultrasound compatible task trainer that offers an effective training solution for central venous or arterial access using the femoral vein route
VascularAccessChild System
Simulab has leveraged its highly acclaimed vascular access trainers to meet the unique needs of pediatrics. This simulated five year old child includes three access sites, replaceable tissues, and ultrasound compatibility during catheter placement

AccessSites:
InternalJugular
Subclavian
Femoral
SkillDevelopment:
VascularCatheterization
Using ultrasound guidance during catheter placement
Identification and palpation of anatomic landmarks significant to the procedure
Ultrasound Thoracentesis Model
The Thoracentesis Model's simulated lung can be seen as an echogenic structure with an inflation mechanism to adjust the size of the pleural effusion. The open top allows the instructor to provide feedback on procedural concepts by allowing students to visualize the catheter depth and placement when inserted into the pleural cavity. A positive fluid flow then offers users feedback when pleural effusions are accurately accessed. The trainer is designed to be filled with fluid and is self-sealing for multiple procedures
SkillDevelopment:
Removal of fluid or air from pleural cavity
Understandingofpleuraleffusions
FeaturesandBenefits:
Anatomicallycorrectwithproperlandmarks
Model base designed for multiple uses with replaceable tissue
Selfsealingformultipleprocedures
Only trainer available that responds to the Safe-T-Centesis™ Catheter Drainage Kit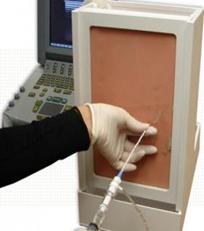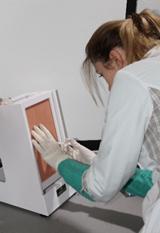 Ultrasound Paracentesis Model
This ultrasound compatible model allows for procedural accuracy when performing the paracentesis - draining fluid from the peritoneal cavity in the abdomen. The anatomically correct model allows the procedure to be performed with or without ultrasound and on either of the recommended areas: the midline below the umbilicus or medial, 4 to 5 cm above the anterior superior iliac spine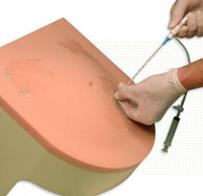 FeaturesandBenefits:
Allowsforproceduralaccuracy
Ultrasound compatible with replaceable tissue
Anatomy includes superficial epigastric vessels, partial liver and partial spleen, rectus abdominal muscles, and mesentery intestines
Anatomical landmarks include the pubis symphysis, iliac crest, and umbilicus
Allows up to one liter of intraperitoneal fluid removal
Replaceable tissue is durable and allows for repeated use
Palpable anatomy and realistic needle response
Arthrocentesis Model
The Arthrocentesis Model is an anatomically correct task trainer that is perfect for performing arthrocentesis. The ultrasound compatible model represents an extended left leg and includes the patella, patella ligament, tibia, fibula, femur, synovial sac, and synovial fluid. Simulated synovial fluid can be removed from a joint cavity using either the medial or lateral approach and insertion sites include suprapatellar and parapatellar
Ultrasound imaging test phantom / breast
Description
Left and right breasts attach to adult upper torso. The left breast permits ultrasound identification of cysts versus dense masses, while the right breast permits identification of cysts of different sizes and depths
Features
• Visualize cysts and masses using REAL ultrasound equipment
• Learn to do ultrasound guided needle aspiration in a relaxed environment before moving onto actual patients
• Left breast contains six dense masses and three cysts randomly oriented
• Realistic texture and look
Lumbar Puncture / Epidural Trainer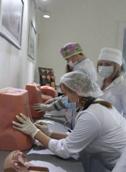 This lumbar puncture simulator is an ultrasound compatible trainer that includes the lumbar vertebrae, iliac crest, spinous process, ligamentumflavum, the epidural space and dura. There are four different replaceable tissues evaluable for this trainer: Normal, Obese, Geriatric and Geriatric Obese
LumbarPunctureBaby

This pediatric lumbar puncture trainer simulates a two week old baby that can be positioned either lateral or decubitus. The body form is anatomically correct with a partial iliac crest and umbilicus. The replaceable tissue has L3 – L5 vertebrae with a partial sacrum and the gluteal crest. Each tissue includes a spinal cord filled with simulated CSF and the epidural venous plexus filled with simulated blood
Advanced Multipurpose Venous Training Arm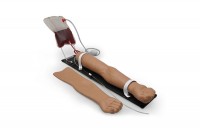 Combining all features required for IV, IM, and Sub-Q training in a challenging simulator

BOSS (Basic Open Surgical Skills)
Basic Open Surgical Skills (BOSS) is a flexible platform for basic surgical skill development. It provides an easy to use platform for synthetic or cadaveric task modules and its ergonomic design creates a realistic tool for improving skills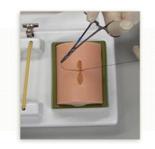 BOSS includes:
Tubing for knot tying under tension
Hookforknottying
Cylindrical cup for knot tying and suturing at depth
Tissuetensioningdevice
Open site with fixation system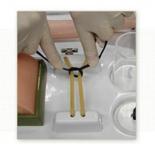 The student tissue pack includes a variety of tissue models on which to practice basic surgical skills. Thetissuepackincludes:
Subcuticularsuturing model
Complextissuemodel
Simulatedlargeintestine
Tissuesuturepad
Injectabletissuepad
SkillDevelopment:
Basicandadvancedsuturingskills
Suturingon a skinsurface
Subcuticularsuturing
Deepwoundclosure
Administeringinjections
Bowelanastomosis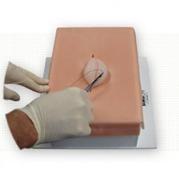 LaparotomyModel
The laparotomy model simulates a partial abdomen and includes skin, subcutaneous fat, fascia, preperitoneal fat, and peritoneum. The base is water tight and can be filled with fluid. It also includes two alligator clips for securing internal tissue structures like a simulated intestine
SkillDevelopment:
Incisions and closure of the midline abdominal region
Bowelanastomosis
Surgery in the abdominal region
PerinealRepairTrainer

The Perineal Repair is a soft tissue model that includes skin, muscle, the rectal sphincter and rectal mucosa. It is ideal for training 1st through 4th degree perineal tears, including midline, mediolateral, and lateral incisions. This trainer has very realistic tissue properties for training 4th degree repair with a retractable sphincter and rectal mucosa. The replaceable tissue allows for multiple cuts and suturing